When I was at RootsTech, MyHeritage had a booth where they were colorizing old black-and-white photos for people. The booth was always swamped with people. I wasn't one of the people who stood in line for this service because the whole idea of colorizing old photos just didn't sit right with me. I couldn't put my finger on my objection, exactly. But I'm curious what readers of this blog think.
Today, I thought I'd blog about it, so decided to upload a couple of photos to try it out for a spin.
At left (at the top of this post) is a photo of my 2nd great grandparents, Samuel Vorce Wheeler (1852-1937) and Elizabeth Jane (Jennie) Nebergall Wheeler (1857-1933), taken in 1926 on the occasion of their 50th wedding anniversary. MyHeritage allows you to see your colorized and original photos side by side in one photo. You can move the dividing line back and forth and watch the photo change. That happens at the MyHeritage website–for the purposes of this post I took a screenshot. The photos you download (like those below) do not have the divider.
Here's a photo of the Arthur Brown-Rhoda Wheeler family. (Rhoda is the daughter of Samuel and Jennie.) That's my grandfather, Crawford Brown (1906-1996), on the far left with the dark striped shirt. I think the photo was taken around 1916. The top photo is the original that I uploaded. (I took a photo of the print with my phone, transferred it to my computer, and uploaded it.) Beneath is the colorized version.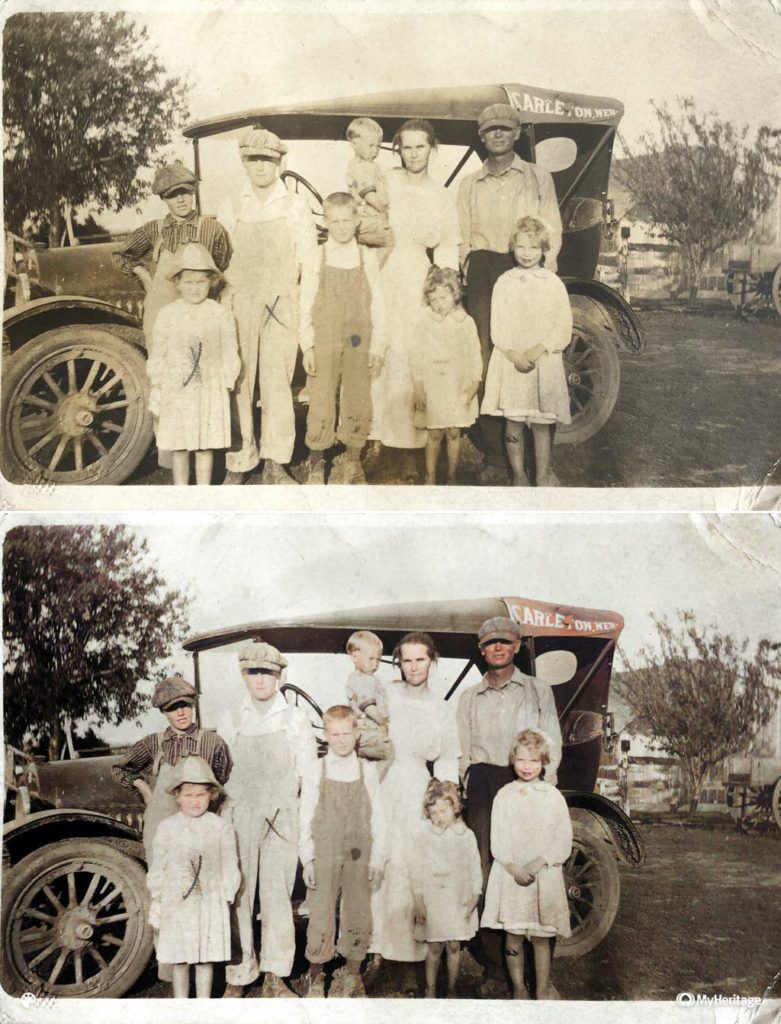 I have to admit I find the colorized version more eye-catching. But it doesn't feel like a 1916 photo, does it?
It's incredibly simple to upload the photo to the MyHeritage site (just drag and drop). The colorizing takes seconds. There's no charge. With a click, you can download the colorized version and/or a comparison photo that contains both images.
It's amazing, but I'm still not sure quite what to think about it. I do know that I'm not going to include the colorized versions among my genealogy documents–they're purely for fun.
Have you tried it? What are your thoughts?